Videos
Shark in the Park Story
Talking about Coronavirus
Tinlips Language Story
Volcano Science Experiment
Hello again,
Welcome back to home learning. We hope the half term break was restful and safe for you all. It looks like there will only be a few more weeks of this post but we hope to keep the videos rolling as these have proved very popular.
Here's this week's activities –
Shadow puppets and a show!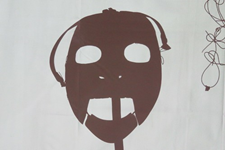 Willow continues its exploration of shape and cutting as well as exploring our imaginations using our cuttings to put on a puppet show.
Key learning –
Scissor control – beginning to cut in a curve as well as straight lines and following a drawn line
Creating puppets
Exploring shadow and projection – looking at how size changes when closer to a light source
Imagination and story-telling skills
You will need –
Scissors – one pair each
Card or thick paper to cut
A plain light sheet hung up across a space (you could hang between 2 legs on your dining room table).
A bright portable light like an angle poise or similar.
Ask your child what they would like to make and join in – I drew just faces, a happy girl, a sad boy and a monster. Cut it out making sure you make eye sockets and mouth (eg. Like a mask). You can either help your child or let them make what they like. It doesn't have to look like a real object!
Explore creating shadows on your sheet by shining the light on it and getting in the way. Your child could sit on the other side of the sheet to see the shadows and then swap over. Make shape with your hands moving them closer to the light source to make them bigger, then back to the sheet to make them smaller. Introduce your puppets working together to make up a story or just have fun exploring how shadow works. Follow your child's lead.
Bubbles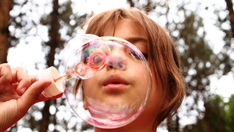 Key learning –
Physical skills of blowing gently
Exploring size and number
Talking about direction
You will need –
Bubbles with blowing wands – have a bottle each
Outside space
The children always love bubbles and Beech have been having fun watching their bubbles move around the garden. It can be very tricky for young children to coordinate successfully. Get them to focus on holding the wand near their mouths and blowing gently. They could practice just blowing on their hand to start.
Once mastered, get them to notice how big and how many bubbles they have blown. Where are they going – use the language of position and direction eg. 'wow your bubbles have gone over the fence and up into the sky. My bubbles were blown left in the wind then went under the tree'.
Extend by chasing the bubbles to pop them. As always, have fun.
Digging and making a mud pie!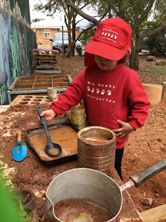 The children have been enjoying our mud kitchen with the warmer weather this week. They have also been digging our vegetable beds ready for spring planting.
Key learning –
Capacity – filling and emptying various sized containers
Science – mixing mud, with leaves and twigs, sand and water
Imagination – pretend cooking
Talking about plants and what they need to grow
You will need –
Outside space
Soil, twigs leaves etc.
Any old pot and pans
Plastic containers
Old spoons and mixing tools from the kitchen
Water (optional!)
This activity is totally open ended! Just give your child the tools and see where they go with it. You can copy their ideas and maybe introduce some of your own. Keep in mind key learning above so that you can comment if they become interested in a particular idea eg. Wanting to know how the plants grow etc or what happens when water is added to the soil (at nursery they make muddy water for hot chocolate!).
Here's a link to more ideas of things to do outside with your child –
https://www.madeformums.com/toddler-and-preschool/20-amazing-things-to-do-outdoors-with-your-pre-schooler/