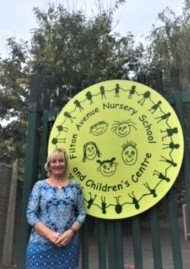 A warm welcome to Filton Avenue Nursery School (FANS) and we hope you find our website useful, informative and inspiring. Here at FANS, we are proud to have served our local community for over 80 years as a Nursery School.
It is a privilege to take over as the Headteacher having been here for over 11 years as a room teacher, Assistant Head and SENco. I am passionate about continuing our work to provide an outstanding teaching and learning environment for your children and to ensuring our dedicated and experienced team offer you all the support you need in these challenging times.
I look forward to welcoming you all to our outstanding Nursery School whether you are returning or totally new to us – it is an exciting moment for you and your children.
With very best wishes,
Sarah Woodfield
Headteacher